A Modern Take On The Ancient Art of Steam Cooking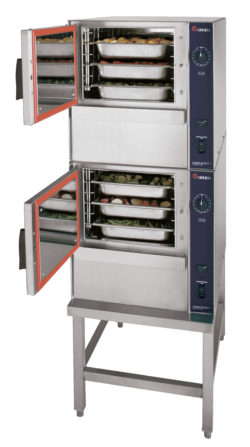 Did you know cooking with steam as a technique has been practiced for thousands of years?
It's part of an Asian tradition dating back as far as 3000 B.C. Recently, archaeologists have unearthed some of these ancient vessels (known as Yan steamers) that were used to prepare food with this cooking method.
These steamers, which were made of bronze or clay, were used to cook some of the same Asian staples – fish, chicken, pork, dumplings, noodles, miso, soy sauce, rice, and sake – that we still prepare today.
Yan steamers are the great ancestors of the modern steamer and therefore have one glaring distinction – they were designed for slow cooking.
Steam generators and pressure boiler systems weren't invented yet, so our predecessors had to cook their food in a pot with a perforated floor on top of another pot filled with boiling water.
That's a pretty amazing feat to ponder when you compare that to the innovative design of a Groen steamer with its network of generators and convection fans that effortlessly transfer steam to the steamer cavity. This process provides some of the fastest and most consistent cooking results that you can experience from any steamer on the market today.
The Groen SmartSteam100 Boilerless Steamer is known for its ability to stand up to intense use in heavy-duty applications. The high-power and low-water capacity of Groen steamers provide fast-paced culinary environments with an incredibly efficient and effective means to maintain quality when cooking food in large quantities.
User-friendly features of Groen steamers include slide-out steam lids that allow direct access to the steam reservoir and cavity for simple and effective cleaning which preserves the mirror-like stainless steel finish of the equipment.
Compared to other methods, cooking with steam is a real plus for food service operations that want to serve and appeal to the health-conscious. Steaming preserves the fiber, color, and flavor of vegetables, and retains important vitamins and minerals. When meat is cooked this way, the fat is released so the result is a lower-calorie and lower-cholesterol food. Broiling, baking, and frying on the other hand, can actually cook fat back into the meat.
We've all seen the demand for healthy meal offerings intensify, and recently, the sushi restaurant has emerged as one of the leading health-food options for American consumers. The sushi industry is a multi-billion-dollar business that comprises thousands of sushi restaurants in the United States alone – and it continues to grow in popularity every year. In the past decade, other restaurants not known for serving sushi have included these menu items as appetizers or tapas. It is also commonly seen on buffets, banquets and even as a take-out item. And with equipment like Randell's modular FX-Series precision refrigeration Sushi Station, there is almost no limit to where you can offer this popular plate-pleaser!
Chef Steve D'Angelo
Electrolux Professional Group Corporate Chef
sdangelo@unifiedbrands.net