Conductive Cold-Wall Cooling vs. Forced Air Holding: Knowing the Difference Can Save You Time and Money
The importance and demand for food safety and fresh ingredients has never been higher.
In order for kitchen staff to keep ingredients fresh and safe, there is a need for equipment that can keep products at the appropriate temperature.
There are varying ways to hold product at safe, cold temperatures. This includes conductive cold-wall cooling and forced air holding.
Conductive Cold-Wall Cooling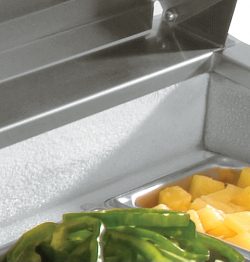 Randell 8000-290 and 9000W-290 series prep tables utilize conductive cold-wall cooling for superior temperature holding performance. Randell separates the rail from the base with two distinct temperature-controlled zones via a split system design so there is no compromise in temperature of the base and rail.
Cold-wall, recessed pan designs are less susceptible to variations in either zone throughout the day and have proven to outperform forced air-cooled designs with several key chains.
The top rail or pan opening on prep tables are not designed or regulatory listed for long-term storage and we do not recommend this. Manufacturers that utilize a forced air-cooled design often state this as a benefit, but they are really promoting non-optimal procedures.
An important benefit of the independently controlled split-system design is that it allows nightly shut-down of the rail while the base stays running. This can offer as much as 50% energy savings at night in comparison to forced air models.
When it's absolutely necessary for an operator to preload pre-chilled and prepped food pans the night before* – Randell offers an optional control strategy that has a settable defrost to mitigate any potential overnight freezing.
This periodic off-cycle defrost will minimize excess frost build-up, allowing the rail to defrost automatically throughout the day and night. This feature is available on the 8000-290 & 9000W-290 series models. In addition, these models come standard with electronic controls, allowing more precise temperature set points that satisfy the ambient environment of peak and off-peak times.
One of the most underrated benefits of the completely sealed rail with clean-out port is that it allows the operator to fully sanitize and clean inside the rail– something not possible with forced air prep tables. In fact, cold-wall systems are able to be fully sanitized easily, while most forced air designs require many parts and pieces to be removed or units to be turned off in order to be fully and properly cleaned and sanitized.
Properly cleaning and sanitizing a Randell sealed cold-wall cooled pan opening can be accomplished in a fraction of the time of forced air designs – an 80% reduction of the time needed in many cases.
Forced Air Holding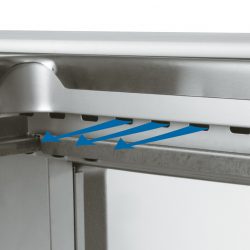 Although forced air tables may be more forgiving, for overnight storage, they don't provide the temperature holding, performance, cleaning benefits or energy savings of cold-wall.
Because forced air tables offer a simple design that uses the air from the base to cool the food pans above, they do not have the ability to manage the temperature independently in both the base and pan opening. This also means you can't shut down half of the refrigeration system when the rail is not in use.
Such tables also don't have the same cold capacity as cold-wall designs, and often struggle to hold temperatures during daytime use when covers are typically open or even removed. These forced air units, like all prep tables, are not tested or listed for 24/7 holding.
For more information on finding the right cooling method for your kitchen space, contact a Randell representative.
*All prep tables, regardless of manufacturer, are tested (and listed) for holding capabilities for a 4-hour timeframe. They are intended to maintain temperatures below 41°F while in an ambient temperature zone of 86°F for 4 hours. There is no testing for longer periods of time. Because of this, overnight holding is not recommended. 
Dave Rademacher, Product Specialist – Refrigeration
(601) 371-6029