Defining the Versatility of the Braising Pan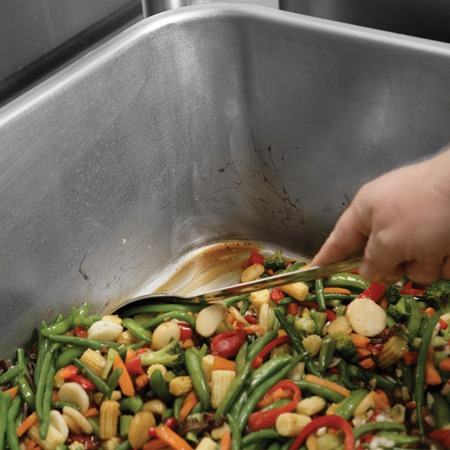 Ask almost any chef and they will tell you that the most versatile piece of equipment in the kitchen is the tilting braising pan (also known as a tilt skillet). So, what's the big deal?
A tilting braising pan can be used as a griddle, sauté pan, searing plate, a boiler for pasta, soups or rice, a steamer and even a shallow fryer. Oh, and it makes a fantastic braiser! You can use the braising pan for almost any culinary task in the commercial kitchen.
Recently, I cooked at a camp for 475 children and adults. Using our 40 gallon Groen braising pan, our team prepared three meals a day for three and a half days for every attendee. We cooked eggs in the morning and sauces for other meals, such as spaghetti and chili. We boiled hot dogs and pasta, steamed brown rice and frozen vegetables, and blanched fresh ones too. We also used this workhorse to sear meats and braise pot roast, a crowd favorite.
Groen's tilting braising pan was the first of its kind and remains one of the industry's favorite commercial braising pans. Its durable construction and the method used for heating the pan simplifies the cooking process.
The cooking surface is made of 5/8-inch steel, clad with a stainless steel surface that is grounded to a 100-grit finish to reduce sticking. Gas models feature a front fire system with welded fins to evenly disperse heat across the bottom of the pan. Electric units feature paired bar elements, which are also very effective in providing even heat.
Chefs love the 3-inch radius corners of the braising pan, which allow food to be easily moved around the pan. This also helps avoid the burning that you may experience in the sharper corners you'll see in a competitor's braising pan. Cleaning is straightforward and nearly effortless, due to the commercial kitchen equipment's open-leg and center-pivot design. The even surface heat reduces burning and allows the cook to deglaze the food for rich and flavorful sauces.
These are some of the many reasons why the Groen tilting braising pan continues to be preferred by chefs. For more information on Groen tilting braising pans, visit unifiedbrands.net. or contact me with any questions.
Enjoy the Food!
Michael Williams, Director of Culinary Marketing – Retail
mwilliams@unifiedbrands.net