Groen Manufacturers 100,000th Steam Jacketed Kettle in Jackson, MS
CONYERS, GA (June 26, 2017) – Unified Brands, a leading manufacturer of foodservice equipment, celebrates a milestone with the completion of their 100,000th Groen kettle produced in their Jackson, MS manufacturing facility.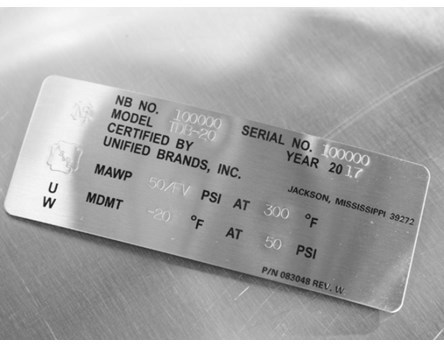 Groen's first steam jacketed kettle manufactured in the Jackson facility was welded in 1984 by James Hampton – who now holds the position of field services manager with Unified Brands. Employees from throughout the facility gathered in celebration as the 100,000th kettle was completed 33 years later. Hampton recently participated in the ceremonial welding of the ASME serial plate of the 100,000th kettle, and employees posed for photos with kettle 1 and kettle 100,000.
Groen, founded in Milwaukee in 1907, is celebrating its 110th year as a foodservice equipment manufacturer. With a heritage of, and passion for, providing the highest quality industrial foodservice equipment solutions, Groen offers a premium line of cooking equipment to include kettles, braising pans, and steamers.
Groen's steam jacketed kettles offer batch-cooking solutions while providing consistent, repeatable results and faster, energy-saving cooking compared to traditional stock pots. Mirror-like exterior finish comes standard on Groen kettles, providing an aesthetically pleasing appearance while making the units easier to clean. Heavy duty construction, reinforced rim, and electronic IPX6 water-resistant controls also come standard. Groen offers an extensive list of available options, making their steam jacketed kettles ideal for restaurants, supermarkets, schools, healthcare facilities, institutions, resorts, and more.
About Unified Brands:
Unified Brands and its Groen, CapKold, Randell, Avtec, A la Cart, and Power Soak product lines have leading industry positions in cooking equipment, custom and standard refrigeration, continuous motion ware washing systems, conveyors, ventilation, utility distribution, cook-chill, and meal delivery systems. Unified Brands has operations in Michigan and Mississippi.