How the "Groceries at a Hardware Store" Concept Applies to Commercial Kitchens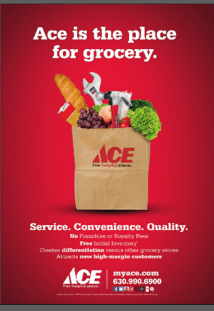 I saw a franchising ad for Ace Hardware the other day and it mentioned groceries. I will admit, it kind of caught me off guard. It seemed unusual until I thought of the big box stores that sell everything from rope to rabbit food.
So why wouldn't a hardware store also sell groceries? I guess the tide flows back to smaller retail for one-stop shopping too. Just imagine what your next Ace shopping list might look like: a 10-foot electric cable, one electrical box, one switch and cover plate, a box of saltines, a head of cabbage, a gallon of milk and a carrot.
This reminds me of old westerns, when someone would visit the general store for everything on their list. Barbed wire, gingham fabric, flour, salt, salt pork, dried beans, coffee beans…you get the idea. One-stop shopping, even in the 1880s.
Customers have always sought value, convenience, selection, and a sense of familiarity. Today's one-stop shopping destination could be a website, big box store, grocery store or market, convenience store, pharmacy, or hardware store. How so? Read on!
Successful food service operations meet their customers' needs by keeping inventory current, rotating specials to keep them coming back, and offering the right value for the experience. This means understanding what the clientele wants and giving it to them. The easier it is to get what will help them achieve their business goals, the better.
When approaching a sales opportunity, you should focus on being a single source for as much of what your client needs as possible. Just like any successful food service operation, you must also understand your clientele and find out what kind of experience they want to provide. Proven revenue generators such as a Roasted Chicken program benefit greatly when a blast chiller is part of their line-up. Smoothie Bars soar with FX precise temperature technology. Fruits and vegetables pop with color when cleaned using a Power Prep system. Roller grills never run empty when a Groen steamer is supporting production.
Each time you review a project, consider how one of these products can be added to enhance the operation's ability to satisfy customers' changing tastes. You never know – the project could be for a hardware store.
To begin exploring the entire UB product line visit the Unified Brand homepage.
Enjoy the food!
Michael Williams