How the Right Cutting Board Maintenance Program Can Give Your Kitchen an Edge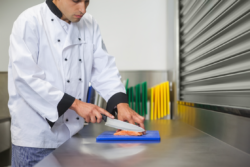 Search any kitchen and you will find a variety of cutting boards in racks and on prep tables. These essential tools of the kitchen come in all shapes, sizes, materials and colors. The most common color and material is white, high-density polyethylene used for single board and longer versions for prep tables. Another popular type of board is a shade of brown and is made of a natural material, bonded with food-safe resin. You may have seen it marketed as Epicurean or Richlite brands. I like this surface because it is easier on my knives. Randell offers the Richlite product as an option for our prep tables.
Additional cutting board color options are available, and each color has special meaning. These include yellow (used for raw poultry and chicken), red (used for raw meat), blue (used for raw fish and seafood), brown (used for precooked meats), green (used for vegetables) and white (used for bakery or general purpose ingredients).
Did you know an essential tool in an allergen awareness program is the purple-colored cutting board? This, along with purple marked utensils, ensures your allergen program includes a critical control point that helps avoid cross-contact and cross-contamination in food preparation.
Cutting boards are essential tools, and like most commercial kitchen equipment, can be a sizable investment. Improper care can give way to stain and mold growth, which can lead to biologic cross-contamination in food prep areas. Because health departments consistently grade kitchens harshly due to this risk, daily cutting board maintenance is a must.
Here is one daily maintenance program that I have used, which is recommended for prep tables and can also be applied to individual cutting boards:
Remove cuttings boards from the equipment each day at the end of shift. Clean both sides of the board and the table surface with an all-purpose food safe cleaner containing bleach, rinse and sanitize. Air-dry the board and the table top. Return the cutting boards to their position on the table (or rack if using a single board) when the board and surface are completely dry.
If mold or discoloration appears, scrub the surface with a scrubbing pad or stiff brush and granulated cleaner containing bleach. If the stains persist after rinsing, place them in hot water with a high concentration of bleach and let stand for at least 2 hours.
If mold persists after these cleaning measures, the stained boards should be discarded & replaced.
It is recommended to rack single cutting boards versus stacking them on top of each other. Racking allows air to circulate between the boards, reducing the opportunity for mold to grow between uses.
Depending on the manufacturer, cutting board maintenance can be a relatively easy process compared to other more labor-intensive commercial food service sanitation tasks.
Did you know, you can significantly reduce maintenance and other sanitation tasks by incorporating Randell prep tables into your food service operation?
While there are several other brands on the market, the Randell 8000 series raised rail prep table is a piece of equipment that consistently helps users drastically reduce time and costs associated with routine maintenance and labor.
This model includes tool-less removable door gaskets for cleaning or replacement and front-facing coils for convenient vacuum cleaning. The rail drain feature also prevents drying towel contamination through the washing, rinsing, sanitizing and air-drying process.
To learn more about the Randell 8000 series prep table and other labor-saving equipment from Unified Brands, visit www.unifiedbrands.net.
Enjoy the food!
Michael Williams