How to Make the Best Risotto EVER … With A Steamer!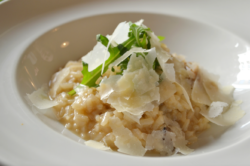 As the corporate chef at Unified Brands, I spend a lot of time collaborating with others testing and creating recipes using our many products.
Not long ago, I took on a recipe for risotto. For those of you who don't know, risotto is a dish made with Arborio rice and is notorious for being very time consuming and labor intensive to prepare, with many opportunities for mistakes. Many restaurants avoid this dish for these reasons.
It requires two pots (a stock pot to cook the broth and another to cook the rice) on a crowded stovetop range to make the dish. The cook must stir the rice and ladle the hot stock in a little at a time, constantly moving the rice to avoid scorching. Any amount of scorching will completely ruin the dish and cause the cook to start over (trust me this is not fun). The entire process can take more than an hour and can be a real burden on your distribution of labor and valuable stove top space.
To put it simply, Groen's line of steamers takes the hard work out of making this dish!
Using a steamer to make risotto can save you money on labor by freeing up the cook who would still be stirring away at the stove. It also opens up the stove, which is always in demand.
And with the higher price point risotto can offer a restaurant, it's easy to add up the return on investment. Think about it: How many segments of the foodservice industry could add risotto to the menu? Quick service and casual dining establishments, hospitals, large banquets and others could all benefit from the ability to easily prepare this dish. The steamer offers chefs a high-volume cooking solution that can help them return elegant, time-consuming dishes like risotto to a restaurant's base menu or feature it prominently at large events (with the ability to cook multiple hotel pans at once).
Inside the steamer, there is a powerful convection fan that increases steam velocity for faster cook times and even energy distribution throughout the cooking cavity. This is what makes it all work to me. Unlike just boiling Arborio, the intense steam releases the starches and produces a great risotto in 30 minutes.
The whole process can be completed in these three easy steps:
In a pan, simmer white wine and a shallot over medium heat until it reduces by half (from 2 cups to 1 cup).
In a hotel pan, mix stock (usually chicken), Arborio and white wine reduction with salt and white pepper.
Place in the steamer and cook for 30 minutes.
When the risotto is done cooking, you can finish it with a few ounces of good hard cheese like Parmesan or Romano, and some butter. You could even mix in some sautéed mushrooms or fresh herbs. This could be set on a banquette line, complete and ready for service.
If you would like to be able to finish the dish to order, cook the rice in the steamer for 25 minutes and then gently spread the risotto out on a sheet pan and cool quickly to prepare later. This could be scaled to an individual portion, cooked and served in a single dish. Using a steamer to make risotto is a great alternative to the traditional method, which can minimize the stress on the chef who boldly chooses to undertake this famous dish.
Steve D'Angelo
Unified Brands Corporate Chef
sdangelo@unifiedbrands.net