Social Distancing at Its Finest
It wasn't that long ago that I didn't know what "social distancing" was.  I guess I thought it was what my awkward neighbor always does and laughed it off.  Nobody alive has ever lived through something like this.  None of us know how to handle it, and we're all trying our best to figure it out.  If it was only a couple of weeks, we probably could have fallen right back into old habits and quickly forgotten it like a bad weekend with the family.  But it's not.  It's been extended, and extended again.  So, that…well…it's crummy.  Not the most eloquent description I've ever given, but it's the most apt I have.
My wife says I have a touch of Pollyanna in me, always looking for the bright side of things.  I've worked with many of you over the years, and I'm sure you've seen it.  After an introduction paragraph like that, how do I plan to turn on the Pollyanna charm you ask?  Because I have to.  We have to.  We all need to give ourselves a little leeway, and remember to give others the same.
We are all going through this.  Some are laid off, some furloughed, some haven't yet found out how they are going to be touched by this…but we're all going through it together.  And here's the thing, COVID isn't going to change because you find a little happiness; it won't disappear because you smile during the day.  But it doesn't help to dwell on the negative or to look at the glass as half empty either.  If we're going to have to live through social distancing, we might as well have some fun with it.  Enjoy the things that you can.  I found Tiger King on Netflix and now understand all the memes I see (you won't find me anywhere near Carol), and I've found that my kids will actually respond to my texts!  There are still good things going on in the world, and there's nothing wrong with feeling good about that.
And feeling good can spread.  A smile goes a long way in somebody's life, and kindness counts as much as ever.  The service industry that we work so closely with is hurting as much, or more, than most.  Restaurants have been forced into carryout-only situations and laying off staff.  So tip, and tip a lot.  In Michigan the minimum wage for servers is $3.59, and right now they have no one to serve.  Tipping 20%+ for takeout probably seems crazy to some people, but it can change the world for others right now.  And, it feels good.
My wife and I have made a more concerted effort to support local because there are local establishments that we want to see survive.  Luckily, I live in Grand Rapids where we have one of the best groups of restaurants and bars in the country.  It's been fun to see how creative some of the businesses have been.  A new tiki bar opened up last year – Max's Hideaway.  Fun place, full kitsch on the walls and décor.  They offer Tiki Party's To Go, saying it will feed four, but it could have easily fed double that.  It comes with leis, umbrellas for your drink, and a can of their special cocktail mixers (we had painkillers, absolutely delicious).  Sounds silly, but it was a blast!  The food was great, and it brought everyone out of the world we've been living in to just enjoy a couple hours.  All I had to say was "Alexa, play Hawaiian music" and we were laughing and eating, just like we would have six months ago.
I've often made fun of my parents for telling "when I was a kid" stories.  I'm sure, like me, you've told yourself, "I'll never say that".  Apparently I was today days old when I became my parents because "back in my day" we didn't have the internet.  We didn't have the ability to download video games, or movies.  I would have never believed a cell phone could order any type of food imaginable and have it delivered within an hour without talking to or even seeing a human!  Now we're having happy hour with friends on Zoom, and binging The West Wing on Netflix.  It's different, but it's still fun.
Life is weird right now.  It's weird for everyone, everywhere.  We need to give ourselves a little extra care and have patience with each other.  To quote Pluto, "have some grace" (if you haven't listened to Pluto.Living on the socials, you're missing out).  Above all else, try to remember to have some fun and see some good in the world.
If you need some inspiration, here's a highlight of how some of us at Unified Brands have made the most of our social distancing opportunity: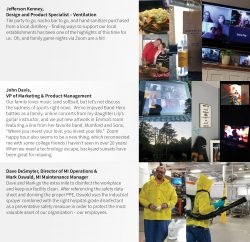 Have fun, stay safe, and wash your hands.
Thanks for reading.
Jefferson
jeffke@unifiedbrands.net