The Healing Factor of Kettle-Made Soups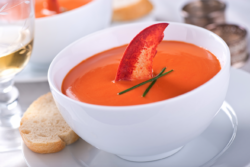 It's truly amazing what a simple bowl of soup can do.
When it's added to a menu, it can provide relief to an organization's bottom line similar to how one might treat the symptoms of a cold.
Whether you work in the kitchen of a hospital or university, or in a quick service or upscale casual restaurant, soup can be a real healer when you need to maximize profits and reduce food costs.
And when it comes to preparing soup, Groen's steam jacketed kettles are unarguably the best way to remedy the situation. The controlled even heat of the kettle creates the optimum environment to prepare thicker liquids with virtually no scorching or time wasted watching pots in the kitchen. Groen Kettles features our Classic and Advanced Controls with IPX6 water washdown rated control housing, giving you more control and greater protection than ever before.
The kettle acts like a bain-marie, which is an old technique of using water between two surfaces to gently heat and keep a meal hot. (Picture two stainless steel bowls stacked inside each other with a heating element sealed between them and a small amount of water.)
When the water is first heated, the steam pushes out all the oxygen between the bowls through a one-way pressure valve that is set to release once the pressure designated for the kettle is reached (usually 25-50 pounds per square inch [psi]).
At sea level, water boils at 212°F (or 0 psi). At 35 psi, you can bring the kettle up to 280°F. At 50 psi, you can reach almost 300°F. The more the pressure, the higher the temperature inside the vessel. For chefs, having that kind of heat without a "hot spot" makes the vessels extremely valuable in demanding cooking environments.
There are so many advantages of using kettles to prepare soup that you may find yourself basing your entire menu around different kinds of soups. Lobster bisque is one of the world's most popular soups – and for good reason. In the past, it was limited to fine dining restaurants, but its popularity (like many other food trends) has trickled down to all kinds of eating establishments as it has been absorbed into popular culture.
It's now common to see this soup on a lot of full-service menus and quick-service restaurants. Recently, I saw a terrific food truck with bisque in a paper soup cup! Who would have thought?
A good tip for bisque is to use the lobsters that are not pretty enough to serve whole. And given the demand to serve only the tails or claws with the soup, you can repurpose the shells for making the broth.
When preparing a "fancy" soup such as this in a Groen kettle, it easy to see how much you can save on ingredients and move your profit margin in a positive direction.
Steve D'Angelo
Unified Brands Corporate Chef
sdangelo@unifiedbrands.net