The Right Chef Table Can Keep Foodservice Operation Flowing and Healthy
As full-service restaurants slowly begin to re-open their doors, their dining rooms, and their kitchens, now is a great time to evaluate flow of service to ensure maximum efficiency for both customers and staff.  I suggest starting with the heart of the kitchen.
If you ask several restaurant operators what the heart of their kitchen is, you may get several different answers.  If you ask me, I'll tell you it's the chef's table.  The chef's table is the final touchpoint of plates before they are served.  It's like the all-important arteries of the kitchen. The easier the flow from kitchen to server, the healthier your foodservice operation will be.
The kitchen staff shouldn't have to worry if hot items are still hot. And what about the salads? Still cold, I hope.
You may have heard the term "mise en place" used in cooking. It translates to "set up," referring to everything being in its proper place. A well-planned chef table layout with everything "in its place" allows the kitchen staff to work effectively while reducing steps. That kind of organization saves you valuable minutes on ticket times.
There's a wide variety of foodservice operations using chef tables as an efficient transition from kitchen to servers, which is why RanChef by Randell comes in 3 differentiated offerings.
RanChef Intro
RanChef Intro is a simplified offering of functional counters, leveraging a vast selection of independent prep tables and hot food holding equipment with drag and drop functionality.
This series includes 36 standard modules comprised of server-side plate storage, double overshelving and chef-side wing walls. Pre-wired electrical receptacles, along with integrated chase ways, are standard in the modules and allow for easy field addition of electrical components.
An optional breaker panel offers enough capacity to accommodate almost any field addition to the counter. Heavy-duty construction and high-grade materials help maximize life expectancy. The counters are pre-assembled at the factory, ensuring proper fit and easy reassembly in the field.
RanChef Advanced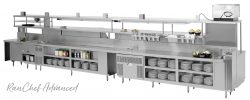 RanChef Advanced provides design flexibility for more unique needs and size constraints. Modular designs combining Randell components are used to create a counter specific to your space. Available with integrated refrigeration or independent systems, a wide range of available options and accessories allow design flexibility and limitless configurations.
UL listed factory pre-wiring of electrical components and installation of customer supplied buyouts, such as heat lamps or roll warmers, make for easy counter installation.
RanChef Unlimited
RanChef Unlimited takes RanChef Advanced to the next level.
With this series, designers can meet the specifications of the most discerning customer designs. Heavy duty construction with upgraded gauge and grade materials are used throughout. Challenge us to create something unique to match your space with all the bells and whistles you desire.
The beauty of the RanChef series is no matter your layout – standard or one-of-a-kind – Randell has a chef table solution to keep things flowing and make sure the heart of your kitchen is happy and healthy.
Dave Rademacher
Product Manager-Refrigeration
Direct: (601) 371-6029
Mobile: (989) 444-8953
drademacher@unifiedbrands.net