Thinking Outside the Box: Unified Brands Helping COVID-19 Fight

By: Jim Lahde at The Morning Sun.
They're doing their part to help the cause and deserve a round of applause. Good people coming together for the good of the world, tough to beat that.
Over the course of the past week Weidman's Unified Brands has stepped up to help fight the COVID-19 pandemic. Unified Brands has created, or invented depending on how you look at it, a COVID-19 enclosure box that fits over the heads of patients during the process of intubation, when a tube is inserted into a patient's airway to help with breathing.
During the intubation process the potential for spreading COVID-19 to the health care workers is at its greatest, thus Unified Brands thought outside of the box and created a prototype box that would help limit that potential.
Unified Brands manufactures commercial food service equipment and is most recognized in the state of Michigan under Randell (refrigeration) and Avtec (ventilation).
The enclosure box concept was the brainchild of manufacturing engineering manager Brad Heil and his wife Leah.
While watching a downstate news broadcast earlier this month both saw a segment dedicated to a collision shop in Riverview named Widener Collision that was making intubation boxes.
Leah, a registered nurse at McLaren Central Michigan Hospital, told her husband that the enclosure boxes were a great idea and might be something to look further into.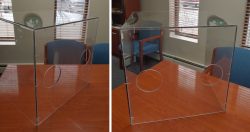 On April 6 the Unified Brands leadership team met and decided to build a prototype out of polycarbonate Lexan, material which is used a sneeze guards in the food-service industry. Within three days, and after some modification, the prototype enclosure box was completed.
As it currently stands Unified Brands has not started production of its enclosure box and has not marketed it. In terms of overall numbers it has build only a handful of enclosure boxes so far.
But that's not the point really.
The point is Unified Brands stepped up to the plate when its country needed it and offered up a great idea followed by a potentially great product that could save lives.
Bravo.
This article is courtesy of The Morning Sun.