Three Ways Commercial Kitchen Equipment Suppliers Stand By Their Equipment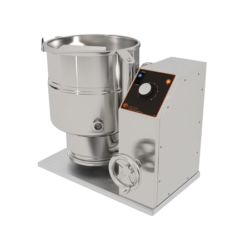 When it comes to ensuring the performance of commercial cooking equipment, there are a few things suppliers will offer to give customers greater peace of mind on their investment and its ability to withstand the demands of the high-volume kitchen.
In addition to offering the most innovative equipment design with the highest-quality cooking performance, Groen provides these three additional benefits:
#1: Industry-Leading Warranties
Often what separates a good brand from a great brand can be seen in the kind of guarantees they provide their customers. Groen stands behind the construction, quality and performance of its equipment by offering a one-year parts and labor warranty and extended warranties on the following products:
Five-year cavity warranty on Groen Steamers.
10-year body warranty on Groen Kettles and Braising pans.
Two-year extended warranty on all Groen equipment for K-12 schools, as part of our commitment to supporting school foodservice initiatives.
#2: Equipment Start-Up
After you make an equipment selection, it makes sense to have a professional with in-depth knowledge of the product stop by to make sure it's correctly installed and functioning properly.
This is an add-on Groen offers for free with every sale as part of its commitment to providing top-notch customer service. Our start-ups are conducted by authorized service agents (ASAs) and features a water quality test analysis and water treatment system recommendation for a SmartSteam, HyPerSteam orand HyPlus steamer. This ensures the installation and operation check was performed correctly so you can begin using your Groen equipment with confidence. It also includes a one-year warranty covering any water-related service issues if the recommended water treatment system is installed and properly maintained.
#3: Performance Check-Ups
Ongoing performance checks are designed to keep customers from encountering problems down the road so they can maximize the output and lifespan of their equipment.
Groen extends this benefit exclusively to K-12 school systems by offering a second-year performance check-up on all Groen equipment. This service is provided as a precautionary measure to help schools resolve any possible issues prior to the beginning of the school year. The ASA will conduct a thorough assessment and provide feedback to the food service director on any corrective actions that need to be made.
Why does Groen provide these free industry-leading benefits? Because we want to be more than commercial kitchen equipment providers and sales reps – we want to cultivate innovative and collaborative partnerships focused on re-imagining food preparation.
For more information, visit the Groen product page on the Unified Brands homepage for more information on the value and benefits of our line of commercial cooking equipment.
Walter Trapp, Product Specialist – Cooking
(601) 951-9265
wtrapp@unifiedbrands.net