To Customize or Mass-Customize? That is the Question — and Randell is the Answer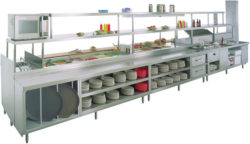 Equipment customization is a topic near and dear to my heart. Unified Brands is a service-driven company, so we always want to take care of the customer in the best way we can. One approach to doing this is to actually offer our customers what they want or need instead of just what we have on hand to sell.
When a customer hears the word "custom," what do you think comes to mind? First might be, "Will I actually get what I want instead of something standard?" If you were building a house, you would want it to fit your needs perfectly. Not just "close enough." So why would you feel any differently about your workplace? Foodservice operations are like mini-factories: Their product is food, and streamlining the process ensures that labor or product is not lost during production. Every unnecessary extra step or lost quantity of product subtracts from the bottom line.
The same is true on the factory manufacturing floor at Randell. Each area needs to be efficient to ensure the best use of labor and access to components. That's how we're able to excel at making specialized foodservice equipment to ensure maximum productivity for commercial kitchens. A well-designed and skillfully built expo counter could be the most important piece of foodservice equipment in your kitchen, so it needs to be designed to fit your specific requirements – not to just be "close enough."
So what could possibly scare people away from "custom?" No one wants to be the guinea pig, and no one wants to hear, "We haven't done this before, but I'm sure we can make it work!" Not when your livelihood depends upon the performance of the product. This brings us to a comparison of "mass-customization" and "custom."
Mass-customization is a great solution for our customers' foodservice challenges, as it leverages the proven and longstanding experience of Unified Brands. Randell offers peace of mind and the knowledge that we have already built, engineered and tested the product to ensure:
It is a standardized design made with standard parts.
The product meets all local and national codes, such as UL, NSF and NSF-7.
Each design is built to fit individual needs as far as size, space and ergonomics without sacrificing performance.
Each product is supported by an extensive Authorized Service Agent (ASA) global network.
Parts depots are located throughout North America for on-demand access to parts.
How does Randell's experience in mass-customization differ from going to a "custom fabricator?" The biggest difference for the customer is the confidence in knowing we have designed, built and tested commercial kitchen equipment for decades. We test every custom refrigeration unit prior to shipping and will NOT ship any piece of equipment if it doesn't meet our standards.
Do we still take on projects that call for a truly unique, custom solution? Products that have never been built before? We certainly do. Most of the major modifications occur during the sheet metal portion of the job and not in the refrigeration, electrical or heated areas. Even in totally custom situations, we use tested solutions and only modify the portion of the project that doesn't affect performance.
If the difference isn't clear, consider this: Your "mass-customized" product still has standard parts that we have used and performance-tested on thousands of units prior to building your design, such as gaskets, compressors, heating elements, coil assemblies, door hinges, door sizes and refrigeration controls. You're not getting a prototype, you're getting a solution that we know will work for you.
The concept of mass-customization should bring comfort to anyone seeking to improve their foodservice operation. It means Unified Brands is striving to provide them with proven products that are specially designed to meet their challenges, all at a price they can afford. We sell kitchens what they need – not what we have on hand. Let Randell go to work for you so you can benefit from our years of experience in providing solutions to every segment of the commercial foodservice marketplace, from the largest chain to the smallest independent restaurant!
Please visit the Randell Custom Design section for more ideas, or feel free to contact us.
Steve D'Angelo
Unified Brands Corporate Chef
sdangelo@unifiedbrands.net