What Can Chefs Cook in a Steam Jacketed Kettle and Braising Pan?
When it comes to cooking, it can be hard to choose between the best appliances to use sometimes. You worry about whether making a change to something new will help in some areas but limit your ability to make delicious meals in other areas. Your job as a chef is to take control of the kitchen, and know how to utilize your equipment to the fullest.
If you have visited our test kitchen [at Pro-Pacific], you will know that some of Chef Wade's favorite pieces of cooking equipment are Groen's braising pan and steam jacketed kettle. We sat down with Pro-Pacific's executive chef, Chef Wade Harris, and spoke with him about how he likes to use a braising pan and steam jacketed kettle in the kitchen, and thought we would share about how these versatile pieces can best fit in your own operation.
Three Ways Chefs Benefit from Braising Pans and Steam Jacketed Kettles
Water Resistance
Via a sealed control panel, you'll find that Groen's braising pans and steam jacketed kettles provide greater reliability and are designed to resist splash back. The sealed control panel makes spray downs during cleaning a breeze and helps avoid expensive repair bills.
In addition to having more control over the excellence of what you're cooking, there are a variety of other benefits. One of the major perks is quicker cooking and extensive menu choices.
More Cooking Control
As a chef, you want to provide consistency across everything you cook. Being able to do so ensures that everyone gets to enjoy the same delicious meals you prepare, with the same tasty flavors and textures. Even if you're swapping shifts with another chef, having that consistency flow between the team is immaculate. With advanced settings and controls, you're able to preset cooking temperatures, monitor them via the built-in digital display, and set a timer to ensure everything works on your own terms.
Precise Temperature Control
With precise time and temperature control, you'll have the advantage of greater cooking performance. Maintaining the correct temperature without having to constantly adjust it allows you to reduce the potential of overcooking food. This also prevents the chance that you may damage expensive equipment should that food burn.
Combined, the two bring you faster cooking time while maintaining the delicious taste of your recipes, and optimize your performance ability. Groen's kettles are the first step in your meal prep while the braising pans are the final step in perfecting each dish.
[The Classic, Advanced, and Cook2Temp™ electronic controls for Groen braising pans and kettles allow operators to achieve more precise temperatures for maximum cooking performance. The Classic control delivers the same unmatched temperature precision you expect from Groen — with an improved control location, precise temperature control, and an IPX6-rated control panel which dramatically reduces the potential for water related service issues. The Advanced control has all of the benefits of the classic control plus a digital display that offers better visibility, and low and high temperature pre-sets that allow less experienced operators to execute precisely what is expected by taking away the guess work. There is also a Manual button for setting a specific temperature. The programmable timer can be used from a range of 1 minute to 10 hours. The Cook2Temp (C2T) control offers all of the features and benefits of the advanced control with the added ability to cook product to a desired temperature, improving consistency and quality from cook-to-cook and shift-to-shift using a core probe with manual or auto features. See our Controls Brochure here.]
So what about the food?
What Can Chefs Cook Using the Steam Jacketed Kettle?
From a chef's perspective, one of the biggest advantages of using the steam jacketed kettle is the ability to prepare large quantities, without having to sit and watch the cooking process, or worry about scorching.
Here are some ideas from Chef Wade for some his favorite menu items he likes to make using the steam jacketed kettle in our culinary kitchen.
How to Make Navy Bean & Ham Soup in a Steam Jacketed Kettle
Beer Brewing with Steam Jacketed Kettles
Bone Broth and Deer Curry in a Steam Jacketed Kettle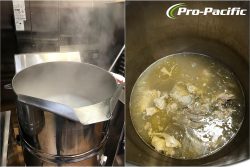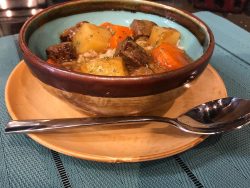 What Can Chefs Cook Using Braising Pans?
A braising pan is great for searing, and evenly cooking meats (like steak, ground beef, and more). A Chef Wade favorite is to cook large quantities of vegetables in the Groen braising pan, ground beef, and his famous marinara sauce, that is well known around these parts.
Chef Wade's Famous Marinara Sauce in a Braising Pan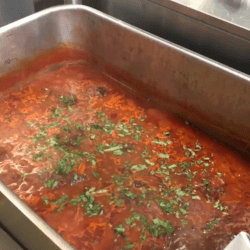 Ground Beef in the Braising Pan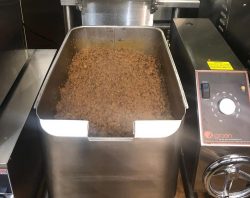 Prepare your Delicious Menu with Steam Jacketed Kettles and Braising Pans
As you adjust to using a braising pan or steam jacketed kettle, or consider transitioning to one, it's important to know the things you cook, how quickly you can cook them, and the quantity you can make. Whether it's breakfast, lunch, or dinner, you'll be amazed at the large serving sizes and short time frames to fill your menu using Groen's cooking solutions.
From the kitchen of our awesome partners at Pro-Pacific.
Click here to view the original blog post.