Why Groen's Braising Pan is Hotter Than Ever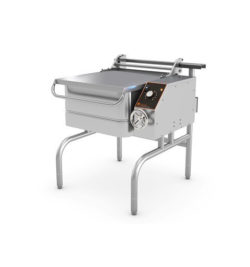 The most versatile piece of heavy culinary equipment in the kitchen is, no doubt, the Groen Braising Pan. Groen was the first (and still the best) at building this problem-solving culinary machine. Groen offers 15-, 30- and 40-gallon units (with the optional new electronic controls feature for more cooking options and tighter temperature control) which gives the user the ability to choose their weapon based on need and volume. But no matter the size, these braising pans are absolutely intended to cook and prepare GREAT FOOD!
With farm-to-table and scratch cooking concepts showing up in almost every corner of the food world these days, this kind of cooking equipment is needed more than ever. Years ago, when I was still developing as a professional in the restaurant world, I remember sourcing local farmers for produce. It was around this time I identified a clear pattern: When the produce was the best-tasting, it was also the most abundant and the most affordable. This was the time to buy a truckload!
But how exactly do you manage a truckload of produce and how do you store it efficiently? You can't just wash and freeze it. Almost all produce needs to go through some form of cooking process to prepare for storage – a daunting task that without the right tools can easily cause someone to pass up the opportunity to reap the benefits of this tasty harvest.
Fortunately, this problem can easily be solved with the braising pan. With this tool, you can stew, sear, steam, sauté, poach and braise all of those beautiful veggies in no time.
While braising pans can handle vegetables in all kinds of ways, they can also be used to amplify the creative talents chefs love to showcase with less valuable and tougher cuts of meat.
It's kind of like saying, "Anybody can grill a $30 filet of beef and make it taste good, but can you make the jelly from a $3 lamb shank delectable?" To me, you can really enjoy all the benefits cooking has to offer with the Groen Braising Pan and the way it delivers even and consistent heat across the surface of the pan.
For more information on this product, visit the Groen product section at unifiedbrands.net.
Chef Steve D'Angelo
Unified Brands Corporate Chef
sdangelo@unifiedbrands.net