Avtec at 50: Celebrating a Half-Century of Innovation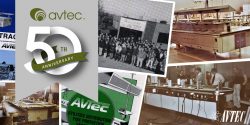 Are there many of us that can remember 50 years ago?
We've all had times when it's hard to remember what we did a week ago, let alone a decade ago. How about a half-century?  The Beatles broke up, the Chiefs upset the Vikings in the Super Bowl, and (my personal favorite) Avtec was founded.
Many things have come and gone, from hair styles to leisure suits, but Avtec still remains.
On my professional journey, I was hired by Randell Air Systems in June 1998 – the year Avtec joined Unified Brands. I've held many positions over the years, from Quoting to Project Management, and had some of the best mentors in the business in Jim Otenbaker, Fred Fritz, and Eric VonKaenel – as well as Art DeLorenzo and Mark DeLorenzo, cousins whose family quite literally put the "DEL" in "Randell.".
I've always been close to Avtec and today I'm proud to be the Design & Product Specialist and get to discuss Avtec through trainings, trade shows, and conferences throughout the industry.
Having 50 years of history providing innovative products to the commercial kitchen industry allows me to comfortably speak and train effectively on our products.
I was recently talking to Tony Campise, who was part of the Avtec family back in the day – from 1988-1992 and then 1995-2002. He reminisced about the operational changes he was a part of, including changing up model numbers to match a configuration and an initiative to reduce errors and standardize the product offering.
But more than anything, he took a trip down memory lane and talked about all the great moments he had with his teammates – Nerf pong, quoting movie lines, and plenty of nicknames.
"I learned a lot at Avtec," he said. "It wasn't really work because we were like a big family."
For many, ventilation might be what comes to mind when thinking of Avtec, but there is so much more. As the innovators of the Utility Distribution System, we bring the flexibility to help simplify the design, operation, and installation of some of the most complex kitchens in the world.
Continuing that innovation, we've moved the UDS into nontraditional areas, such as overhead raceways in kitchen prep areas and our Electra Pole for building remodels. We design and build Tray Trac meal prep systems for VA and private hospitals that need to feed 1,000+ meals quickly and accurately with ever-evolving menu requirements.
Our slat belt conveyor system is one of the most reliable soiled tray conveyors – if not the most bullet proof – on the market. They are designed to operate and self-clean in the worst of areas: the dish room.
Our Bus Trac tray accumulators are specifically designed to be easily cleaned, needing no tools to remove the shelves that are sized to fit in a standard dish machine.
Our kitchen ventilation line has the energy-efficient Eco Arch hood and an operator-friendly energy management system in Eco Azur. Eco Arch is the ultra-quiet, energy-efficient hood that can save you 30-50% of your energy costs with its patented aerodynamic arch design. The Eco Azur is the easiest system for an operator to clean and keep operational, with milled stainless steel optical sensors with sealed covers.
We have recently released SimpleSpec by Avtec, an easy to specify and purchase hood program that includes the most common options and accessories you would need in one simple SKU. These are intuitively labeled kits for fryers, pizza ovens, and even standard sized box hoods among several others.
SimpleSpec has also been loaded into AutoQuotes, making us the first kitchen ventilation manufacturer to have a full line of hoods listed in AutoQuotes with prices, spec sheets, manuals, and CAD and Revit files.
When large-scale operations are needed, we've partnered with our CapKold line of Cook-Chill equipment to come up with specific designs for hoods to be mounted over kettles with capacities from 50 to 300 gallons.
Avtec has even included the rail assembly needed for the baskets needed to load and unload kettles in these large-scale applications.  When you have a custom need for hood or conveyors in the dish room or meal prep, Avtec should be your first call.
Being in business for 50 years is no small feat. When you look at what Avtec has been able to do, it's pretty amazing. From helping people achieve their dreams of opening a restaurant to working on kitchens to feed our troops and our young people in schools.
Avtec has helped feed people all over the continent, and we're proud to have done so for over 50 years.
I've spent half my life working with Avtec and you know what? I can't imagine working anywhere else.
Happy Birthday Avtec.
Jefferson Kenney
Design & Product Specialist – Ventilation
Unified Brands – Avtec
800-621-8560 EXT 6492