Four Ways to Beat the Kitchen Crunch with Versatile Equipment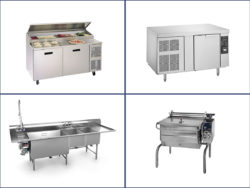 In commercial foodservice operations, spacious kitchen facilities are the exception, not the rule. The vast majority of them have to make the most of cramped quarters. Here are four Unified Brands equipment solutions that are designed to bring valuable versatility to any commercial kitchen.
1.  Randell refrigerated prep tables
Product flow, cleanability and the overall functionality of the kitchen are of primary importance – whether you are starting with a blank slate or working with an existing space. Mis-aligned equipment can cause interrupted work flow, and in some cases, injury to workers. Neither is conducive to a pleasant, productive, or profitable work environment.
Randell refrigerated prep tables have a common depth and height, which gives them continuous flow when placed in a line. A variety of configurations are available – from work top to mega top and single-rail to double-rail models — ensuring that every inch of space, even vertical space, is used wisely.
The "fresh and local" trend is driving an emphasis on fresh preparations of fruits and vegetables. Washing with an antimicrobial wash is essential to ensuring that these products are free of dirt and pests. While handwashing is adequate, it can be problematic. The Power Soak produce washing system adds a systematic automated process to any kitchen and actually increases the "fresh life" of product.
Scratch cooking means onsite cooking, and making sure your customers are able to see the process is important. No longer are operators cooking behind a wall; now, the prevailing trend calls for an open kitchen or "food theater." In this environment, versatility is key. Groen braising pans are an excellent example of equipment that can handle everything from morning production to those prime "cook to impress" times.
These thoroughbreds can be used to sear, sauté, stew, steam, wet hold (bain-marie), pan fry, griddle and yes, braise – then tilt to pour. Available in 15-, 30- and 40-gallon gas and electric models, featuring new electronic controls and in widths starting at 30 inches, these pans make cleanup a snap, and then they're ready for another recipe.
Food safety is always of primary importance. In order to cool products through the temperature danger zone, many operators depend on a blast chiller. Randell blast chillers are exceptionally effective in bringing foods from 145°F to below 40°F well within stage 1 cooling (2 hours). Multiple sizes are available from 3-pan to 18-pan models, and we even have worktop models that are a real space saver. Simple controls with data collection, stainless steel components and detachable food probes make this the "go-to" unit for many large retail operators. Whether they are used to prepare rotisserie chicken, rice or vegetables, Randell blast chillers perform exceptionally well and offer outstanding versatility.
To see these and other space-optimizing equipment options from Unified Brands, check out our retail brochure. You can also visit our retail website for additional details and specifications for our products.
Michael Williams
Director of Culinary Marketing – Retail
michaelw@unifiedbrands.net