How to Save Time in the Home Kitchen With Meal Kits and an Old Friend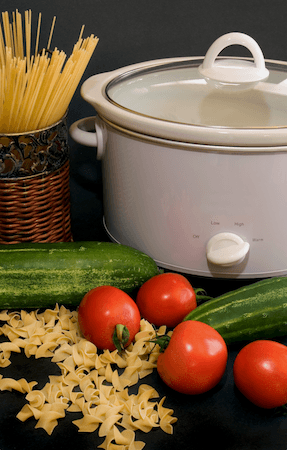 In recent years, mail-order meal kits have been big business for a growing list of companies. Through the sale of their products, they have served millions of meals to tens of thousands of customers.
This change has left grocers scrambling to offer similar products in an effort to gain a share of the market. Some have created their own meal kits, while others have partnered with meal kit delivery companies themselves. Meanwhile, a handful of larger companies, such as Kroger Co., have begun to buy these meal kit companies outright.
Meal kits were designed to simplify the purchasing and meal planning process, and also answer demand for increasing the variety of meals served on the dinner table.
Some of the benefits described by meal kit marketers include spending more time in the kitchen with family, the ability to learn and experience a broader array of flavors and ingredients, and of course, the convenience factor. While these are all desirable traits, who has the time to cook on a busy school night – even with a meal kit? Sports, school activities and work push any slivers of free time to the limit.
And while many families desire to eat the most wholesome and nutritious meals possible each day, it's just simply not feasible for everyone. So how can this time-crunched segment of the market be reached?
Well informed grocery operators are finding a solution to these problems through the packaging and sale of Crock-Pot meal kits.
These kits are returning the lowly Crock-Pot to a more prominent place on the kitchen counter. Creative packaging separates the meat and other ingredients in one convenient package. All the consumer has to do is open the package, place the contents into the Crock-Pot and turn on the desired cooking setting.
My family relied heavily on the slow cooker so that we would all have something good and hot to eat when we got home from a long day of school, work or play. Our trusty avocado-brown Crock-Pots produced delicious chicken, pot roast, stew and chili to the delight of us all. And if you're like me, you depended on this marvel to get you through college and a first apartment.
Though the Crock-Pot has become the generic term for any slow cooker, the Crock-Pot is actually a trademarked name for a product developed and patented by Irving Naxon in 1940. The Naxon Beanery, as it was originally marketed in the 1950s, caught the eye of The Rival Manufacturing Company. In 1972, Rival purchased the product and officially rebranded it as the Crock-Pot.
As the '80s rolled in, the slow cooker was just too slow … people wanted something fast, like a microwave, which better matched their busy lifestyles. Fast forward to today, and slow food – and slow cookers – are cool again. It's a good thing too, because according to Consumer Reports, 83% of households in 2011 had a slow cooker in the cabinet. And yes, one of ours is that dreamy avocado-brown model that was purchased in the late '70s.
Though many designs have developed over the years, you can still purchase a close-to-original design for about $25. This makes the dependable cooking device affordable for just about any family. Newer Crock-Pot models have inserts for easy cleaning and automatically change to a holding mode at the end of either 4-hour (fast) or 8-hour (slow) modes.
When considering the production of a meal kit program, it is important to test the recipes, gain feedback from customers, make adjustments where needed, clearly communicate nutritional information and develop Hazard Analysis and Critical Control Points (HACCP) and Standard Operating Procedure (SOP) programs for safe food production.
Unified Brands manufactures foodservice equipment that can make a real impact on the production and quality of a meal kit program regardless of the size and scope. For example, the Power Prep Advanced vegetable washing system, paired with an antimicrobial produce wash chemical, will provide ultra clean vegetables that are free of debris, pests and harmful bacteria. And once you are ready to prep and package the product, Randell's refrigerated prep tables can help you maintain a constant temperature so all of the ingredients are kept well within the food safety temperature zone.
To learn more about Unified Brands products and how they can assist in meal kit production, visit www.unifiedbrands.net.
Enjoy the food!