UNIFIED BRANDS LAUNCHES REDESIGNED WEBSITE TO PROVIDE FASTER, EASIER ACCESS TO EQUIPMENT SOLUTIONS FOR THE COMMERCIAL FOODSERVICE INDUSTRY
CONYERS, GA (January 18, 2019) – Unified Brands, a leading manufacturer of foodservice equipment, is pleased to announce the relaunch of its website. The new, redesigned site at unifiedbrands.net makes it easier than ever for dealers, sales reps and customers to quickly find the solutions they need to increase quality, reduce costs and streamline operations in the commercial foodservice industry.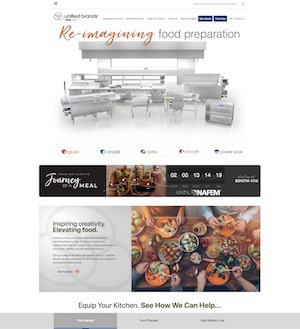 "Part of our vision at Unified Brands is to cultivate innovative and collaborative partnerships that are focused on re-imagining food preparation," said Dave Herring, president of Unified Brands. "Our new website is another way we are fulfilling this goal while simultaneously continuing to push the boundaries of what the customer can and should expect from a top-tier kitchen equipment manufacturer."
In addition to the enhanced functionality and improved user experience on mobile devices, the redesigned website offers:
Expanded Navigation: In addition to listing kitchen equipment by brand, the new site allows users to search for solutions by market (K-12, Restaurants, Retail, Health Care, Colleges & Universities, and Hospitality & Lodging), benefit (Enhance Food Safety, Reduce Prep Times, Increase Throughput, Achieve Consistent Quality, Reduce Kitchen Labor and Lower Utility Costs), or function (Cooking, Meal Delivery, Refrigeration, Ventilation & Distribution and Washing). These additional navigation options help customers and other visitors identify the specific ways they can solve their kitchen challenges.
Comprehensive Resources: Visitors can use handy cross-reference tools and ROI calculators to make informed equipment decisions, plus access extensive libraries of product-related materials including warranty information, manuals, sales sheets, brochures and more.
Sales and Service Search Tools: Visitors can locate sales reps and service technicians based on specific brand, zip code and country to quickly and easily find the exact assistance they need.
For more information about Unified Brands and the new website, please call Shawn McElyea at 601-506-1998 or visit www.unifiedbrands.net.