How the Addition of a Table Top Steam Jacketed Kettle Made a Difference For a Fan Favorite Local Restaurant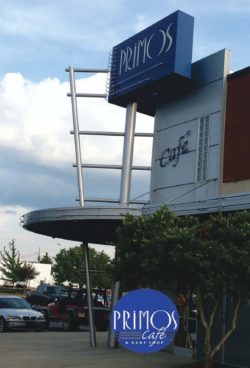 Primos Café is a Mississippi restaurant tradition started by Angelo "Pop" Primos, a Greek immigrant baker. Since opening in the 1920s, Primos Café has been synonymous with great quality Southern food and friendly restaurant service for nearly 90 years. This tradition is carried on by third-generation owner Don Primos. Groen is proud of its close relationship with Primos Café and for being part of its kitchen over the years.
To say that quality, consistency and value are important components to the small business' success is an understatement. Dishes like Southern-style cheese grits, pot pie and chicken and dumplings have been enjoyed by Primo Café patrons for decades. The consistency of these dishes in particular has played a vital role in retaining repeat customers.
Recently, Don added a Groen TBD-40 electric steam jacketed kettle to his equipment lineup to cook Primos Café's signature dishes (he also has a Groen HyPerSteam HY6 steamer on the same line). Don and his employees were impressed with the kettle's even cooking and its ability to eliminate scorching, reduce cook times and make cleaning simpler.
To familiarize the staff with the steam jacketed kettle, we compared it to a double boiler with a really big cooking surface. Gentle but powerful steam energy heats the large cooking surface to the desired temperature without the wild swings in temperature that can cause burning or boil overs. This translates into more useable servings per batch.
Since using the kettle, the kitchen staff at Primos Café has reported more than six additional sellable servings per 10-gallon batch of sell-out favorites, such as chicken and dumplings and chicken pot pie. This has resulted in about $50 worth of additional sales revenue per batch and $150 in extra revenue per week. Throw in a Southern staple like cheese grits, and there's now an additional 15-20 servings or $100 per batch. That's a total of $250 in extra revenue per week!
Another benefit of steam jacketed kettles is saved labor in terms of cook time and clean-up, which can really add up. Primo Café's cook no longer has to "watch the pot," and they save at least 30 minutes of labor with every batch in the pot and pan wash room. These are soft costs often missed when calculating the level of value and return on investment that only a Groen table top steam jacketed kettle can provide.
While interviewing Don for this blog post, he shared that he was more familiar and comfortable with larger steam kettles since he'd used them in the past. He had never considered what a smaller kettle could do for his current operation. Flash forward to today, and he will tell you he's so glad he took a chance on a Groen table top steam jacketed kettle that he's added a kettle for each of his other two operations, along with a double stack Smart Steam steamer as well.
Visit our steam jacketed kettle section to read more about Groen table-mounted or floor-mounted kettle options. And don't forget to stop by Primos Café to enjoy some downhome Southern cooking!
Enjoy the food!
Michael Williams
Groen Product Line Director
mwilliams@unifiedbrands.net