Unified Brands Introduces New Power Soak Intro Series
CONYERS, GA (October 10, 2018) – Unified Brands, a leading manufacturer of foodservice equipment, announces the launch of a new product series to its Power Soak line-up.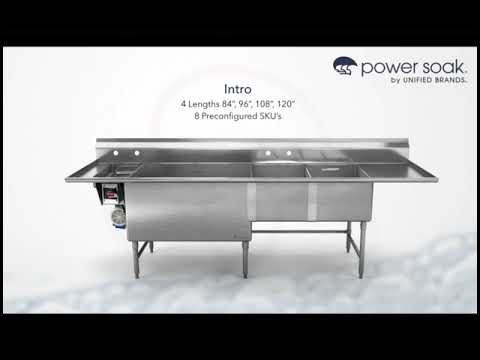 The new "Power Soak Intro" is a continuous motion pot, pan and sheet pan washing system, delivering consistently clean results with improved sanitation and workforce efficiency.  The unit offers an enhanced solution to warewashing that replaces the standard three-compartment sink. It is available in four standard-length models.
"Power Soak is well known for their custom warewashing solutions, chosen by many of the industry's top chains, institutions, and retail operations for operational efficiency, reduced labor costs, and improved product quality," said Clay Thames, Product Line Director – Cooking & Warewash. "The development of the Intro series rounds out our product offering by providing a lower-cost solution for those operators seeking to replace the labor-intensive method of hand washing, but needing an economical alternative to the three-compartment sink."
Upgrading from the Intro model, Power Soak also offers Advanced and Unlimited product platforms – providing additional options, features and benefits, as well as fully customizable solutions and layouts.
Additional information on all Power Soak products can be found here.
About Unified Brands: 
Unified Brands and its Groen, CapKold, Randell, Avtec, A la Cart, and Power Soak product lines have leading industry positions in cooking equipment, custom and standard refrigeration, continuous motion ware washing systems, conveyors, ventilation, utility distribution, cook-chill, and meal delivery systems. Unified Brands has operations in Michigan and Mississippi.